Getting Organized:

In your home and homeschool
Welcome to a new week and a new area of the house to detail clean. This week we are going to bless our bedrooms and make them more peaceful and cleaner. Each day we will do something to get rid of clutter and dust bunnies. We all deserve a clean bedroom to come into each night. It will give us peace and hopefully a better night's sleep. If you have children at home, you can have them do similar missions to clean their rooms.
Zone Missions for the week:
Monday – Declutter Flat Surfaces and Detail Dust in your Bedroom
Tuesday – Declutter in your Closet
Wednesday – Declutter Shoes
Thursday – Clean Under the Bed
Friday – Detail Vacuum the Baseboards
Here are your Zone Missions for the month of June: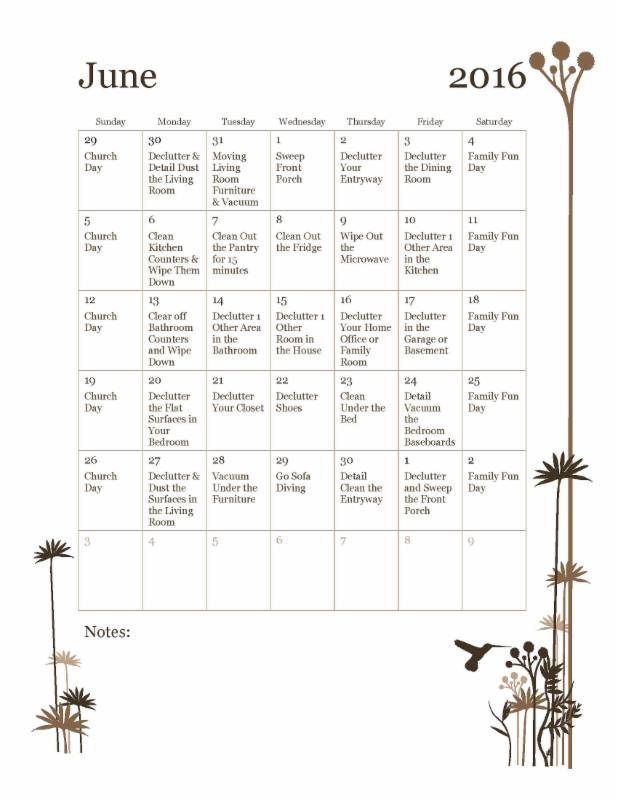 Daily Routines:
Home:
Make Your Bed (Do this as soon as you get up.)
Get Dressed Down to Your Shoes
Swish and Swipe
Start Your Laundry
Decide on Dinner
Check Your Calendar
Start the Day off with a Shiny Sink. Don't leave the breakfast dishes sitting.
School: Stop by the library and pick up some books to read over the next week.


Afternoon Routine:
Eat Lunch
Clear off One Hot Spot
Reboot the Laundry
Declutter for 15 Minutes (Be sure to have your children declutter, too.)
Drink Your Water
Errand day: Make your plan for grocery shopping and errands. Pack water bottles and snacks for everyone. Pack up your library books that need to be turned in.
Family Fun: Take a nature walk today.