Getting Organized:

In your home and homeschool
Let's have a little fun today with our decluttering mission. Turn on some fun music. Set your timer. Get your declutter kit ready – 1 bin for give away, 1 bin for throw away, and 1 bin for put away. We are going to Fling, Fling, Fling today. Try to declutter 27 things from your bedroom. You can clean off a chair or flat surface. You can declutter in your closet. You can declutter your dresser drawers. This is not going to be a long project, so don't drag out everything you own. Start with the most visible area first, and then move to another area. Spend only 15 minutes doing this mission. If you need to do this again, you can do it another day this week.
I have been ruthless with my closet, too, so I do not have as much to go through for these missions. I do want to share with you how to declutter in my closet without making a huge mess and working for hours. I start on the left side of my hanging clothes and work my way to the middle. I pull out clothes that I know do not fit and clothes that I do not ear any longer. I put these on my bed. I will take them off the hangers and put them in my Give Away basket. This takes 15 minutes or less. The next day, I will do the right side of my hanging clothes in the same manner. On the third day, I will work on the closet floor. This helps me declutter shoes and stuff that has found its way to my closet. On the fourth day, I will declutter the shelf above my hanging clothes. This is mostly my running shirts and shorts that are folded and stacked. It does not take long for me to sort through them, so I am usually finished with my closet on day 4. On the fifth day, I can tackle a dresser drawer or two for 15 minutes. The next month, I will focus more on the dresser drawers and less on the closet.
Zone Mission: Declutter in your Master Bedroom for 15 minutes.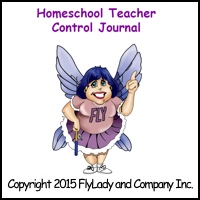 Set your timer for 15 minutes for the Home Assignment and 15 minutes for the School Assignment
Home:
Make Your Bed (Do this as soon as you get up.)
Get Dressed Down to Your Shoes
Swish and Swipe
Start Your Laundry
Decide on Dinner
Check Your Calendar
Start the Day off with a Shiny Sink. Don't leave the breakfast dishes sitting.
Clean out your refrigerator. Toss the science experiments.
School: How's the weather where you are? Add some weather tracking to your school day for the rest of the month. Track high temperature and low temperature. Track precipitation. Track the sunrise and sunset.
 Afternoon Routine: 
Eat Lunch
Clear off One Hot Spot
Reboot the Laundry
Declutter for 15 Minutes (Be sure to have your children declutter, too.)
Drink Your Water
Write up a menu plan for the next 7 days. Check your pantry and freezer and make a grocery list. This habit will save you time and money. Try out some new recipes with the slow cooker. It will save you time once you start back to your school schedule.
Family Fun: Take your children for a walk.
Before Bed: (This starts right after dinner.) 
Check the Calendar for Tomorrow
Lay out Your Clothes for Tomorrow (Have your children lay their clothes out, too.)
Put things at the Launch Pad that you will need first thing in the morning
Shine Your Sink
Clean Off a Hot Spot
Go to Bed at Decent Hour