Getting Organized:

In your home and homeschool
Are you taking care of yourself, or are you too busy to take care of you?

Many years ago, I learned a hard lesson that I had to love myself and take care of myself. A sick, unhealthy person cannot take care of those she loves. My priorities are to love God, love my husband, love my children, and love others. I also have to love myself enough to rest, exercise, eat healthy, and drink adequate water daily.
Matthew 22:36-40 (KJV)
36 Master, which is the great commandment in the law?
37 Jesus said unto him, Thou shalt love the Lord thy God with all thy heart, and with all thy soul, and with all thy mind.
38 This is the first and great commandment.
39 And the second is like unto it, Thou shalt love thy neighbour as thyself.
40 On these two commandments hang all the law and the prophets.
Ephesians 5:29 (KJV)
29 For no man ever yet hated his own flesh; but nourisheth and cherisheth it, even as the Lord the church:

Taking care of you is important, and it is the easiest thing in the world to put yourself last. The demands on a homeschool mom are many. If you ever sat down and listed all of the "jobs" a homeschool mom does, it is a long list.
Look at your daily schedule and your routines. Do you have self-care factored into your daily schedule?
What are some self-care things you can do?
Here are a few ideas:
Get 8 hours of sleep each night
Drink 80 oz of water a day (soft drinks and caffeinated drinks do not count)
Eat a balanced diet with protein, fruits, and vegetables
Have 15 minutes of purposeful movement a day (walking, exercise DVDs)
Relax and turn off electronics (have a set time to turn them off daily)
Set up appointments for your physical and bloodwork annually
Send me an email with some of your ideas to take care of yourself daily?
Have a wonderful day!
Zone Mission: Declutter 1 Bathroom Drawer
Weekly Home Blessings of the Day: Quick Dust and Vacuum
Menu Plan for Tuesday: Chicken Filet Sandwiches (grilled chicken for mom)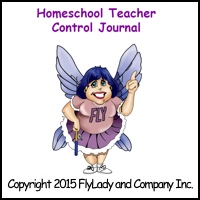 Set your timer for 15 minutes for the Home Assignment and 15 minutes for the School Assignment
Home:
Make Your Bed (Do this as soon as you get up.)
Get Dressed Down to Your Shoes
Swish and Swipe
Start Your Laundry
Decide on Dinner
Check Your Calendar
Start the Day off with a Shiny Sink. Don't leave the breakfast dishes sitting.
Clean out your refrigerator. Toss the science experiments.
Spend 15 minutes loving movement.
School: Ask your children what interests them. Pick up some library books on the topic.
 Afternoon Routine: 
Eat Lunch
Clear off One Hot Spot
Reboot the Laundry
Declutter for 15 Minutes (Be sure to have your children declutter, too.)
Drink Your Water
Write up a menu plan for the next 7 days. Check your pantry and freezer and make a grocery list. This habit will save you time and money. Try out some new recipes with the slow cooker. It will save you time once you start back to your school schedule.
Family Fun: Take your children for a walk.
Before Bed: (This starts right after dinner.) 
Check the Calendar for Tomorrow
Lay out Your Clothes for Tomorrow (Have your children lay their clothes out, too.)
Put things at the Launch Pad that you will need first thing in the morning
Shine Your Sink
Clean Off a Hot Spot
Go to Bed at Decent Hour