Getting Organized:

In your home and homeschool
How does your sink look?

This month we practiced the habit of shining our sink once a day. I have trained my children to rinse their dishes and put them in the dishwasher. That keeps my sink empty. All of them help with unloading the dishwasher as well. I do resist the temptation to rearrange the dishwasher. We run the dishwasher twice a day anyway. I am not going to be a perfectionist on how the dishwasher is loaded. They have emptied it enough that they know the general area the dishes go in. I don't stress out about how the dishes are loaded.

Teaching your children how to do dishes is an important life skill. There are many things around the house that you can teach you children to do that will benefit them later in life. In the present, it will benefit you to train your army to help you. Remember that the next time you do something around the house because it is easier for you to do it rather than to teach them to do it.

While I am talking about perfectionism and teaching your children. Think about your laundry. Do you find yourself doing most of the folding even if it is towels because you want things folded a certain way? Teach your children to fold laundry and be willing to accept it if it is not perfect. My two youngest fold the towels and washcloths daily. They know the way to fold them, but I do not go back behind them to refold them if they do not look perfect. Guess what? We will be using those towels and washcloths again really soon.

Have a wonderful day!
Zone Mission: Detail dust and vacuum the Living Room.
Weekly Home Blessings of the Day: Quick Dust and Vacuum
Menu Plan for Tuesday: Taco Tuesday and a side salad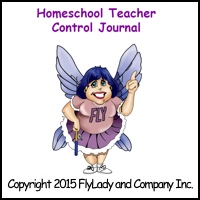 Set your timer for 15 minutes for the Home Assignment and 15 minutes for the School Assignment
Home:
Make Your Bed (Do this as soon as you get up.)
Get Dressed Down to Your Shoes
Swish and Swipe
Start Your Laundry
Decide on Dinner
Check Your Calendar
Start the Day off with a Shiny Sink. Don't leave the breakfast dishes sitting.
Clean out your refrigerator. Toss the science experiments.
Spend 15 minutes loving movement.
School: Ask your children what interests them. Pick up some library books on the topic.
 Afternoon Routine: 
Eat Lunch
Clear off One Hot Spot
Reboot the Laundry
Declutter for 15 Minutes (Be sure to have your children declutter, too.)
Drink Your Water
Write up a menu plan for the next 7 days. Check your pantry and freezer and make a grocery list. This habit will save you time and money. Try out some new recipes with the slow cooker. It will save you time once you start back to your school schedule.
Family Fun: Take your children for a walk.
Before Bed: (This starts right after dinner.) 
Check the Calendar for Tomorrow
Lay out Your Clothes for Tomorrow (Have your children lay their clothes out, too.)
Put things at the Launch Pad that you will need first thing in the morning
Shine Your Sink
Clean Off a Hot Spot
Go to Bed at Decent Hour