Getting Organized:

In your home and homeschool
The Christmas Holiday is approaching, and we have been working in steady steps to get ready. Today, let's put away the fall decor and start putting out our Christmas decorations. My children love to help me decorate for the Holidays, so we can get a lot done in 15 minutes. I have learned to set my perfectionism aside and let them be creative. During the years when they were all shorter than me, I would decorate the top of the tree. Now all of them except for one is taller than I am, so I am relegated to the bottom of the tree when I put ornaments on the tree. We put out some candles and other decorations. We live out in a rural area, so we do not decorate our porch or our yard. We can decorate in a day. Some years, I pull out my Christmas china, and we use it nightly. I usually wait until the first week of December to do that. If you have a lot of small children or are pregnant, keep it simple on decorations and shopping. Two of my children were born in January, and the Christmas before their births, I kept things very simple. It was still memorable.
Zone Mission: Declutter in the Living Room and Decorate for Christmas
Weekly Home Blessings of the Day: Quick Dust and Vacuum
Menu Plan for Tuesday: Taco Tuesday, beans, and salad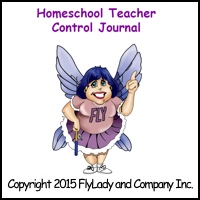 Set your timer for 15 minutes for the Home Assignment and 15 minutes for the School Assignment
Home:
Make Your Bed (Do this as soon as you get up.)
Get Dressed Down to Your Shoes
Swish and Swipe
Start Your Laundry
Decide on Dinner
Check Your Calendar
Start the Day off with a Shiny Sink. Don't leave the breakfast dishes sitting.
Clean out your refrigerator. Toss the science experiments.
Spend 15 minutes loving movement.
School: If you still have little ones, use some red or green paint and make handprints on paper. It is fun to go back and look at these later.
 Afternoon Routine: 
Eat Lunch
Clear off One Hot Spot
Reboot the Laundry
Declutter for 15 Minutes (Be sure to have your children declutter, too.)
Drink Your Water
Write up a menu plan for the next 7 days. Check your pantry and freezer and make a grocery list. This habit will save you time and money. Try out some new recipes with the slow cooker. It will save you time once you start back to your school schedule.
Family Fun: Take your children for a walk.
Before Bed: (This starts right after dinner.) 
Check the Calendar for Tomorrow
Lay out Your Clothes for Tomorrow (Have your children lay their clothes out, too.)
Put things at the Launch Pad that you will need first thing in the morning
Shine Your Sink
Clean Off a Hot Spot
Go to Bed at Decent Hour