Getting Organized:

In your home and homeschool
Today, let's spend 15 minutes decluttering seasonal clothes. Look through your warm weather clothes. What did you not wear in the spring or summer? Unless it is a special event outfit, consider letting it go. Check your children's closets. Pull out anything that does not fit and put these clothes in a box to donate. Check their winter coats and see if they still fit. If not, you can donate the coats that are too small and start looking for a replacement before it gets too cold. It has been a very warm fall in the South, so we are still wearing our warm weather clothing. Eventually, we will need our winter coats, and we will be ready.
While you are looking in the closets, check shoes, too. My sons seem to outgrow shoes more than once a season, and I can always find a pair of shoes in the back of the closet that no longer fits. So take a few minutes to declutter some shoes!
Have a wonderful day!
Zone Mission: Declutter seasonal clothes and shoes that do not fit
Weekly Home Blessings of the Day: Quick Dust and Vacuum
Menu Plan for Tuesday: Taco Tuesday, beans, and salad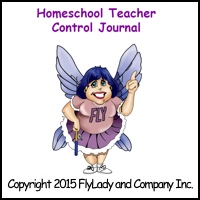 Set your timer for 15 minutes for the Home Assignment and 15 minutes for the School Assignment
Home:
Make Your Bed (Do this as soon as you get up.)
Get Dressed Down to Your Shoes
Swish and Swipe
Start Your Laundry
Decide on Dinner
Check Your Calendar
Start the Day off with a Shiny Sink. Don't leave the breakfast dishes sitting.
Clean out your refrigerator. Toss the science experiments.
Spend 15 minutes loving movement.
School: Practice handwriting skills with a Gratitude Journal or writing Thank you notes
 Afternoon Routine: 
Eat Lunch
Clear off One Hot Spot
Reboot the Laundry
Declutter for 15 Minutes (Be sure to have your children declutter, too.)
Drink Your Water
Write up a menu plan for the next 7 days. Check your pantry and freezer and make a grocery list. This habit will save you time and money. Try out some new recipes with the slow cooker. It will save you time once you start back to your school schedule.
Family Fun: Take your children for a walk.
Before Bed: (This starts right after dinner.) 
Check the Calendar for Tomorrow
Lay out Your Clothes for Tomorrow (Have your children lay their clothes out, too.)
Put things at the Launch Pad that you will need first thing in the morning
Shine Your Sink
Clean Off a Hot Spot
Go to Bed at Decent Hour