Getting Organized:

In your home and homeschool
Today let's tackle your bathroom cabinets. You might have more than one, so pick the one that needs attention the most. Many of us have a cabinet that stores items we don't use a often, and likely there are items in that cabinet we have not used in years. So set your timer. Open the cabinet and declutter. Trash the things that cannot be donated. If you have things that can be donated, add them to your donate box. They can bless someone else and open up some storage areas for you. If you have two or more bathroom cabinets, do this as many times as you need to this week to get them all cleaned out.
Zone Mission: Declutter your bathroom cabinets
If you need more help with organizing your home and homeschool, you can download  The FlyLady's Homeschool Teacher and Homeschool Student Control Journals for free.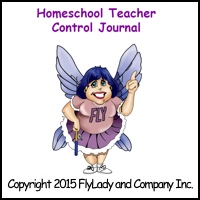 Set your timer for 15 minutes for the Home Assignment and 15 minutes for the School Assignment
Home:
Make Your Bed (Do this as soon as you get up.)
Get Dressed Down to Your Shoes
Swish and Swipe
Start Your Laundry
Decide on Dinner
Check Your Calendar
Start the Day off with a Shiny Sink. Don't leave the breakfast dishes sitting.
Clean out your refrigerator. Toss the science experiments.
School: How's the weather where you are? Add some weather tracking to your school day for the rest of the month. Track high temperature and low temperature. Track precipitation. If it snows where you live, do some science experiments with snow. Make learning fun!
 Afternoon Routine: 
Eat Lunch
Clear off One Hot Spot
Reboot the Laundry
Declutter for 15 Minutes (Be sure to have your children declutter, too.)
Drink Your Water
Write up a menu plan for the next 7 days. Check your pantry and freezer and make a grocery list. This habit will save you time and money. Try out some new recipes with the slow cooker. It will save you time once you start back to your school schedule.
Family Fun: Take your children for a walk.
Before Bed: (This starts right after dinner.) 
Check the Calendar for Tomorrow
Lay out Your Clothes for Tomorrow (Have your children lay their clothes out, too.)
Put things at the Launch Pad that you will need first thing in the morning
Shine Your Sink
Clean Off a Hot Spot
Go to Bed at Decent Hour