Getting Organized:

In your home and homeschool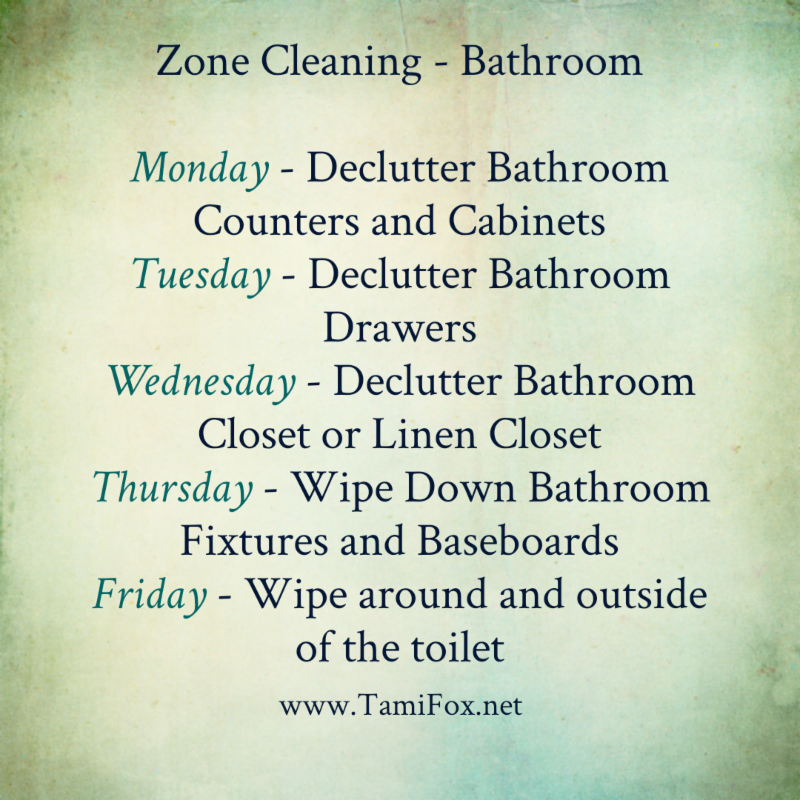 Welcome to a new week! This week we are going to detail clean our main bathroom, and if you have extra helpers in your home, you can have everyone work together to detail clean all of the bathrooms in your home. We have three bathrooms, and we have 5 males in the house. So detail cleaning is a must for us. We do a quick daily swish and swipe, so the detail cleaning focuses on decluttering and wiping down other surfaces in the bathroom. You can find the weekly plan below, but let's just focus on today for now.
Today, let's declutter the tops of the bathroom counter and the cabinets. Spend 15 minutes or less on this. If you have a place for all of your toiletries, this can go very quickly. If you store your toiletries on your counter, this will take longer. Having a place for everything is a good thing. If you stuff things into your drawers, you need to work on stopping that habit. Clean out the drawers and organize the things you must have. Toss expired make-up and lotions. Toss old toothbrushes, even the one you kept for grout cleaning. Go head and get yourself a new toothbrush and relegate your current toothbrush to grout cleaning.
Here are your Zone Missions for the week for
Zone 3 – Main Bathroom:
Monday – Declutter Bathroom Counters and Cabinets
Tuesday – Declutter Bathroom Drawers
Wednesday – Declutter Bathroom Closet or Linen Closet
Thursday – Wipe Down Bathroom Fixtures and Baseboards
Friday – Wipe around and outside of the toilet
~~~~~~~~~~~~~~
Home:
Make Your Bed (Do this as soon as you get up.)
Get Dressed Down to Your Shoes
Swish and Swipe
Start Your Laundry
Decide on Dinner
Check Your Calendar
Start the Day off with a Shiny Sink. Don't leave the breakfast dishes sitting.
Weekly Home Blessing Hour:
Spread these out over the course of the week. Put a note on each day of the week with one or two of these per day.
7 Parts of the Weekly Home Blessing Hour from The FlyLady:
Quick Dust
Sweep/Mop
Purge Magazines or Paper Clutter
Change Bedding
Empty Trash
Clean Windows/Mirrors
Vacuum
 School:
Plan one fun activity for this week.
 Afternoon Routine:
Eat Lunch
Clear off One Hot Spot
Reboot the Laundry
Declutter for 15 Minutes (Be sure to have your children declutter, too.)
Drink Your Water
Family Fun: Have some outdoor time with your children today. Play. Do some nature journaling. The point is to add some movement to your day.
Before Bed: (This starts right after dinner.) 
Check the Calendar for Tomorrow
Lay out Your Clothes for Tomorrow (Have your children lay their clothes out, too.)
Lay anything out that you will need first thing in the morning
Shine Your Sink
Clean Off a Hot Spot
Go to Bed at Decent Hour