Getting Organized:

In your home and homeschool
Top of the Morning to You! How are you today? I am thankful today. Today is my daughter's 25th birthday. I am so proud of the young woman that she is. I am thankful to be her mother. I am thankful for all of my children and my husband. This time of year really brings out the "thankful" in my heart. What are you thankful for?
Our Zone this week is our Master Bedroom. Is your bedroom your refuge? Is it restful? Do you smile when you look around your room? Let's purpose to make our bedrooms our oasis. Today I want you to clear off your dresser top and detail dust it. When you put things back, only put back the things that bring you a smile when you see it. Find new homes for the other stuff or declutter it. Bless someone else. The goal is to have a dresser top that you can easily dust during the Weekly Home Blessing Hour. You also want it to look pleasing to you when you look at your dresser.
I sent out a link on Sunday night to my new resource to help you Rock the Holidays with Daily Missions to help you get ready for the Holidays. If you have not downloaded it yet, CLICK HERE and to find out how to get it now. Holiday Missions start on November 1. But you can start now by walking around your house for 15 minutes with a trash bag. Throw away any trash you find. Have your children do the same thing in their bedrooms.
If you need more help with organizing your home and homeschool, you can download  The FlyLady's Homeschool Teacher and Homeschool Student Control Journals for free.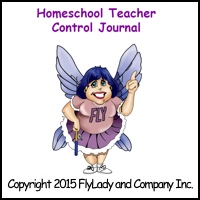 Set your timer for 15 minutes for the Home Assignment and 15 minutes for the School Assignment
Home:
Make Your Bed (Do this as soon as you get up.)
Get Dressed Down to Your Shoes
Swish and Swipe
Start Your Laundry
Decide on Dinner
Check Your Calendar
Start the Day off with a Shiny Sink. Don't leave the breakfast dishes sitting.
Clean out your refrigerator. Toss the science experiments.
School:
Are you taking time to enjoy the fall weather as a part of your school day? Take some books outside and enjoy doing some school work outside today.
 Afternoon Routine: 
Eat Lunch
Clear off One Hot Spot
Reboot the Laundry
Declutter for 15 Minutes (Be sure to have your children declutter, too.)
Drink Your Water
Write up a menu plan for the next 7 days. Check your pantry and freezer and make a grocery list. This habit will save you time and money. Try out some new recipes with the slow cooker. It will save you time once you start back to your school schedule.
Family Fun: Take your children for a walk.
Before Bed: (This starts right after dinner.) 
Check the Calendar for Tomorrow
Lay out Your Clothes for Tomorrow (Have your children lay their clothes out, too.)
Put things at the Launch Pad that you will need first thing in the morning
Shine Your Sink
Clean Off a Hot Spot
Go to Bed at Decent Hour